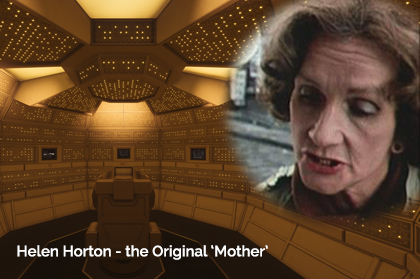 From One Muthur to Another...
The life of an actor is wonderful in many ways, but there's one very special thing actors get to experience, if they're very lucky: taking part in something that becomes a kind of touchstone, resonating with people all over the world and becoming part of popular culture. I experienced that with Notting Hill, the British romantic comedy in which I had a small role playing Julia Roberts' assistant. Even though it's been nearly twenty years since that film was made, people still talk about it with affection and I am so proud to have been a part of it.
But you don't often get the chance to be in something so iconic. So, as you can imagine, I am thrilled to bits to be playing MU/TH/UR (Mother) in Alien: Covenant, latest in the astonishingly iconic series of Ridley Scott's films. ('Mother' is the computer who monitors all activity on the spaceship - a bit like a space-age Siri or Alexa.) I am a HUGE FAN of both the director and the films, so I have to keep pinching myself!
Anyone would be excited, of course - but playing this role is particularly poignant for me, because I'm stepping into the shoes of a friend and colleague: the late Helen Horton, who played the role of Mother in the 1979 film, Alien.
Helen was from Chicago but, like me, made her home in the UK. She did loads of British TV shows - The Benny Hill Show, Tales of the Unexpected, The Bill - but she was probably best known for Alien.
The pool of American actors in London is relatively small, and over the years Helen and I did our fair share of working together, especially when I was a young actress just starting out. Although Helen was from the Midwest, she had something of the New England lady about her. She was impressive - slim, elegant, skilled, professional and kind. But she didn't suffer fools, as I recall. Helen was of my mother's generation (what a generation that was!) and, to be honest, I was a little bit in awe of her. These many years later, I am honoured to play a role that she originated.
Thinking about Helen while working on this film has been like circling around to meet my younger self, in a way. And in the world of Alien: Covenant, which is a prequel to Alien, the characters in Alien don't yet exist and Helen hasn't yet voiced Mother. So although it's fanciful, I like to think of her waiting there in the future, where we might meet again... and what a lovely thought that is.
It's been a wonderful experience working on this film, and I am especially happy to have this opportunity to remember Helen Horton with admiration and affection, and am thrilled to have had the opportunity to interpret a role she created so beautifully.
---
Alien: Covenant opens May 12 in the UK and May 19 in the US.